Part Conveying
TOSH part conveying accessories are all-electric and fully programmable, allowing the end user to configure the machine to meet today's challenge, and easily reconfigure it to meet tomorrow's. For complex applications TOSH accessories can be paired and synchronized to create seamless solutions, increasing your efficiency and productivity to levels that will put you well out in front of you competition.
Fast. Accurate. Flexible. Let us help you find a solution today.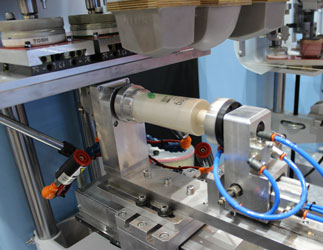 Processing
Part pre- and post-treatment, pad and part pre-drying, static control, part loading and unloading, vision inspection systems, pad cleaners, part-specific tooling, part positioning, color matching, environmental control, HEPA filtration…
We're not just printing guys. We understand how to help you control the effects of your printing environment as well as those upstream and downstream processes that can impact pad printing.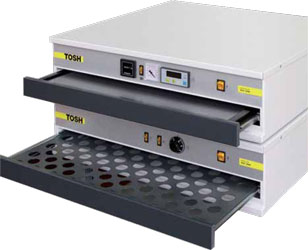 Plate Making
Need to produce your own high quality clichés in-house?
We can help you understand the nuances of the entire process, from artwork and film output to exposure, development and post-exposure.
TOSH exposure, development and post-exposure equipment comes in a variety of sizes, is easy to use, and provide you with consistent results.
Of course, we can provide you with a variety of different blank cliché materials as well as all of the films and supplies that you'll need to succeed.